Power Delay Cream
A 2 ounce tube of safe topical numbing anesthetic penis cream used to prevent premature ejaculation during sexual intercourse or masturbation.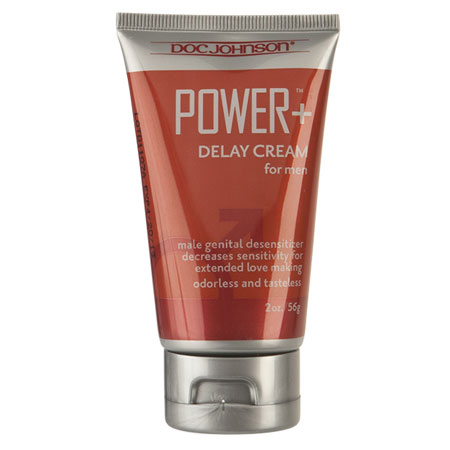 What is Delay Cream?
A mild and effective non-toxic topical penis desensitizer in a vanishing cream base, water soluble, odorless and tasteless. The active ingredient is 7.5 percent benzocaine, a numbing agent that mutes sensation on the skin when applied.
It will not completely numb the penis, but men experience a slight reduction in sensation after it absorbs into the skin. Full absorption typically takes about 5 minutes. Benzocaine is used in dentistry to numb patients gums before a procedure. It is safe to use and safe to ingest; hence the application in dentistry.
How to Use
1.) Apply a few drops around the tip of the penis, spreading down the top half of the shaft.
2.) Wash your hands. (Otherwise, your fingers will numb too!)
3.) Wait a few minutes for the numbing to take effect. (Up to 5 minutes).
4.) Enjoy longer lasting sex or masturbation!
Your partner will not feel numb unless intercourse takes place immediately after the delay cream application. Therefore, is essential to wait at least 5 minutes to prevent spreading the desensitizing agent to your partner!