Forever Yours Mint Prolong Cream
Mint flavored cream prolongs lovemaking by temporarily reducing sensation on his penis. A discreet tube easily stashes in the beside table drawer. The gentle appearance eases the mind!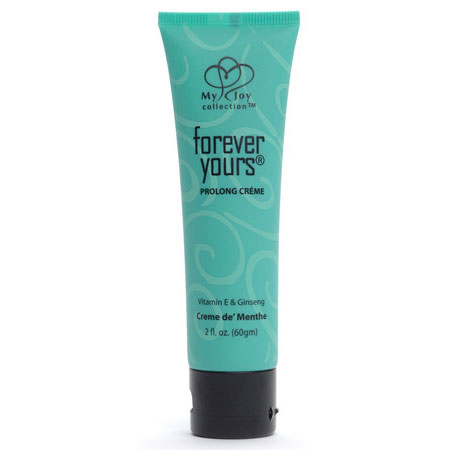 Natural Erection Boosters
Infused with Vitamin E & Ginseng.
Vitamin E
is an antioxidant that protects the body from tissue damage and boosts the immune system function. One of the top benefits of Vitamin E for sexual uses is the ability to widen blood vessels and engorge blood flow to the extremities. It assists the body's function of producing an erection by widening the blood vessels in the area applied. It is a subtle enhancement that can make a big difference. Men may notice the erection is more sensitive than usual, the presence of additional fluids and blood makes every single touch and stroke feel better.
Ginseng
has similar medical benefits as the aforementioned Vitamin E. Ginseng root works mainly to encourage the body's producing of Nitric Oxide, which increases blood flow by relaxing arteries in the penis.
Longer Lasting Sex
This prolong cream contains benzocaine, a safe topical anesthetic that numbs the skin. It is the same product dentists use to numb the mouth. It takes approximately 5 minutes to absorb into the skin. Be sure to apply to the penis before intercourse. If applied immediately before sex, the partner may also experience reduced sensation.
Natural Touch
Forever Yours natural prolong cream is water soluble and condom safe. Composed of natural food ingredients in a well made blend. It numbs and cools at the same time for an invigorating feel with a minty touch. Comes in a 2 ounce tube.