Wet Light Lubricant 4.8 oz.
Wet Light is thinner and lighter than a standard water-based lubricant. Wet brand is the perfect alternative for men with overly sensitive skin or men who find regular lubricants overly cumbersome or sticky.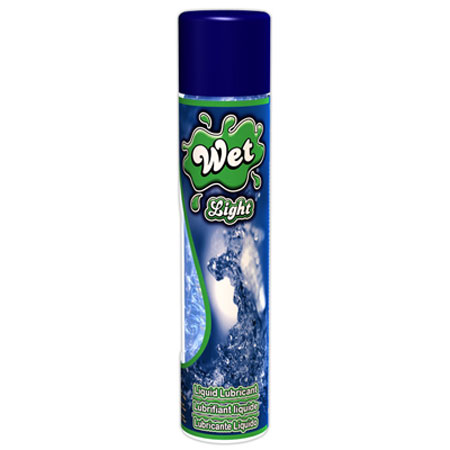 The gentle formula still works to seal the air during penis pumping, as such, we offer this version in the catalog listing as another penis pump lubricant alternative. It is also water-based, gentle, odorless, colorless, non-staining and long lasting.


Gentle Additives
Featuring a delicate infusion of soothing Aloe Vera and Vitamin E.
Aloe Vera
is a topical treatment for skin irritations. In lubricant application, it helps to keep skin well hydrated and smooth via Aloes natural moisturizing properties.
Vitamin E
is an antioxidant that repairs skin and prevents dryness. In conjunction with Aloe Vera, these 2 compounds transform a regular personal lubricant into a great skin care product.
This lubricant is condom compatible and safe to use with penis pump parts. It simulates the body's natural fluids. Wet brand is recommended by leading doctors and health organizations. Also, a wonderful formula to use during sexual intercourse, it effectively mimics natural vaginal lubrication. Comes in a 4.8 ounce bottle.