Prolong Plus Erection Cream
A libido booster for men that temporarily enhances the strength of his erection. A uniquely formulated powerful men's sexual enhancer cream. Comes in a water based, non-greasy, fragrance free base. Prolong Plus is made in America.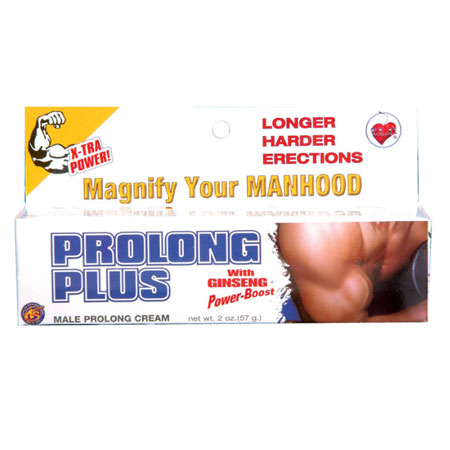 Power of Ginseng
Ginseng has powerful healing properties. The root of the Ginseng plant has been used as medicine in China for over 5000 years. In North America, herbalists & naturopaths use the root in several applications. Health benefits of Ginseng include boosting the immune system, lowering blood sugar, balancing cholesterol, reducing fatigue and boosting energy.

Ginseng is also commonly known aphrodisiac and is a popular additive for libido enhancers. Added to a penile erection cream, it absorbs right into the source adding momentum to sexual energy and augmenting excitement.


Libido Booster
How does Ginseng affect libido? It contains components that boost the output of nitric oxide in the body. Nitric oxide increases blood flow and relaxes arteries in the penis, encouraging an erection.
This compound can help in fighting erectile dysfunction and is commonly an additive in herbal Viagra formulas. It will not cure ED, but the minor boost helps men who's erections are weak. Even if a man does not have ED, this erection cream is safe, it makes erections firmer and more sensitive.
Instructions:
1.) Apply to the tip of the penis and gradually spread down the shaft. Cream can be applied when the penis is flaccid or erect.
2.) Wait 5 minutes. During this time, the cream absorbs into the skin and encourages blood flow to the penis.
If using as penis pump, we suggest applying the cream after use.