Power Penis Pump
Minimize spending with the least expensive model. A no-frills basic penis pump with typical fare such as clear plastic cylinder, rubber tubing, textured hand bulb and a latex sheath.

- Insertable Length: 7 1/2 inches
- Inside Diameter: 2 1/4 inches
- Includes Ring: No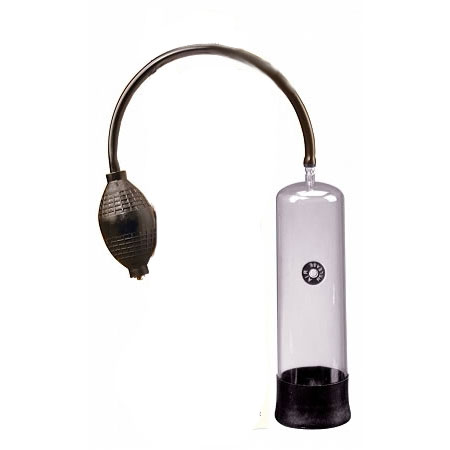 The Truth About Cheap:
When looking for a cheap penis pump, careful consideration should be taken in selecting the model. Some manufacturers offer cheaper penis pumps; however, the failure rate can be high, and the connection points inconsistent. This version is the right compromise between functionality and price.
This erection pump is a good choice for men with a strictly limited budget. It is good enough to create adequate suction for penile enhancement. Please note this model is not as strong as other more substantial models. For example, the
Precision Pump
or
Red Pump
are similar styles with better quality parts.
A Stiff Erection for Less:
The typical customer for this penis pump is a man who wants to stiffen an existing erection. Exotic dancers use erection pumps before a performance since the freshly engorged penis is very attractive, described as "bursting at the seams". A visual treat women are genetically hard wired to like!
The penis pump cylinder measures 7 1/2 inches long and 2 1/4 inches wide.