John Holmes Personal Pump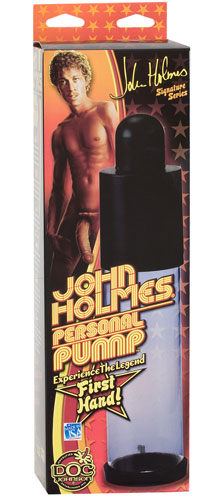 This is the only penis pump featuring an attractive vintage style box, (see the photo to the right). Reminiscent of Retro days when John Holmes was the most well known name in porn. Of course it makes sense that he endorsed his very own pump! His massive member was due to surgery, please don't expect gains in size from using this pump as it just doesn't happen that way (why?).


Gag Gift with a Purpose:
This unique pump can help give an erection although it's primarily sold for a gag gift joke for birthday parties due to the over the top box appearance. Should the gift recipient experience erectile dysfunction, as most men do with old age, he can always grab the pump and put it to good use, after talking to his physician first.
Penis Pump & Practicality:
The cylinder is 11 1/2 inches total length with 8 inches insertable and 2 7/8 inches wide, with the seal it reduces the penetrable distance to approximately 2 1/2 inches. Very lightweight although some may consider it top heavy since all working components are concentrated within the black dome at the top. Unique plunger design gives steady, strong and precise suction when you pull the plunger tip upwards.
Push it down and pull up repeatedly to create vacuum suction. This alternative is better for men who may have arthritis and find squeezing a bulb to difficult. The minimal distance the plunger can raise means the suction will be delivered slowly, gently and steadily to your penis as it becomes erect.
A Different Seal:
The rubber vacuum seal stretches to fit comfortably at the base of your penis. The flattened circular design varies from the typical cylinder sleeve as it does not wrap around the entire erection, rather it provides air seal by circling the base of the penis. You may remove the seal when down pumping and slip it upwards or leave it in place during sex. The rubber is thin and pliable allowing the expansion from a flaccid state to erect state all while cradling the base in utmost comfort. The seal is easy pulled off from the base and fits on the straight end in between two grooves in the inside diameter of the rubber lip.
How to use:
The vacuum seal is controlled by the small release hole on the side of the cylinder. Put your thumb over the hole to allow an airtight suction and when your erection is strong and hard, release your thumb to instantly release the pressure in the cylinder. John Holmes version includes a bonus 1 ounce bottle of Stallion Pumpers lubricant which is designed for this use.
$39.99