Cherry Sta-Hard Desensitizing Cream
Newly redesigned, highly concentrated cherry flavored desensitizing cream for men. It works faster and harder. Your ticket to longer lasting sex is right here! Water based formula is latex compatible.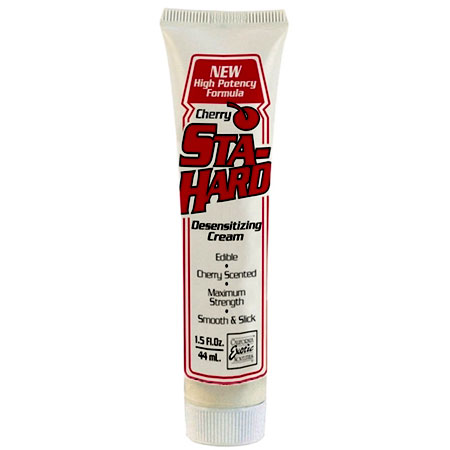 Benzocaine to Desensitize
Benzocaine is one of the most popular over-the-counter drugs to relieve itchy skin, reduce pain from bug bites and minor burns. Commonly used in dentistry, benzocaine is the magic ingredient in toothache creams and used to alleviate pain caused by dentures and braces. As such, it is safe to use internally; therefore, this desensitizing agent is the ideal drug to counteract premature ejaculation.
It takes approximately 5 minutes to absorb into the skin. Apply to the penis tip in advance and benefit from a slightly desensitized erection allowing intercourse to last much longer than usual.
Tasty Cherry & A Second Use
The cherry flavor is sweet and tempting like candy. When licked it creates an instant saliva response. Women use when performing fellatio; the desensitizing effect works excellent on the throat, gums and tongue. It is effective at reducing the gag reflex. Unlike an oral sex lubricant, only a few drops are required so it will not leave a sugary mess.